Training for Middle Level Managers and Leaders
Specialized Skills System
Give Your Mid-Level Managers the Power to Lead, Communicate, Organize and Operate!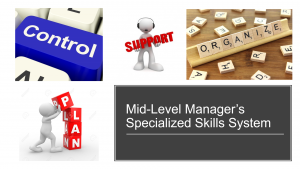 Total effective skills in one inclusive system:  
leading and communicating with people

organizing

planning

prioritizing

managing projects, 

personnel , activities and  efforts
What are the required skills of a mid-level manager?
Mid-level managers are in a unique position. The fact is, they have requirements to be a success in their position that other levels of mangers and supervisors do not face. Mid-level managers must communicate continuously upward to management, as well as, to their front line supervisors in the other direction. They must plan and organize employee efforts, allocate resources and effect interdepartmental coordination. The skills necessary to engage their management, front line reports and peers is invaluable and not optional to their success. At the same time, the skills to delegate, plan, organize and follow-up are vital to their consistent and continuous success! The marketplace is full of research outlining the horrors and disappointment that ensues when mid-level managers do not have these fundamental and very necessary skills.
---
Example:
According to Gallup:
A recent Gallup poll of more than 1 million employed U.S. workers confirmed the No. 1 reason people quit their jobs is a bad boss or immediate supervisor. "People leave managers, not companies … . In the end, turnover is mostly a manager issue," Gallup reported. Gallup also reported that poorly managed work groups are on average 50% less productive and 44% less profitable than well-managed groups.
By Gallup's estimates, the "not engaged" group costs the U.S. $77 billion to $96 billion annually through their impact on those they manage. And when we factor in the impact of the "actively disengaged" group, those figures jump to $319 billion to $398 billion annually.
Having confidence in their abilities, receiving recognition for achievement, creating opportunities for advancement through performance and of course, having a good supervisor themselves, are the things that engage mid-level managers and pay huge dividends for the organizations they work with!
Your Mid-level Managers' Leadership Skills Training Solution
Our "Mid-Level Managers Specialized Skills System" WILL create ENGAGEMENT, PERFORMANCE, and RESULTS for your managers and your company! It's an all-inclusive leading, communicating, task and project performance system.  Mid-level managers and leaders are the hub of a company's operations!  Training for middle level managers includes 3 key skills and TLI gives it to your company in a convenient, easy to use online immersion training system!
Components:
Goals, Structure, Culture (GSC) Leadership Development Training (leadership A to Z)
Communication Success Program (CSP) (Advanced interpersonal skills and techniques)
Workplace Efficiency – High Performance Project Management (HPPM) (The full gambit of workplace performance skills: planning, organizing, risk management, resource management, etc.)
---
Mid-Level managers face a specific set of challenges that C-Suite and front line leaders rarely experience. Mid-level managers must be able to understand, support, motivate and build a positive relationship with their front line charges. At the same time, they must have the skills to foresee challenges, effectively allocate people and resources to keep operations and all projects moving forward. They must do this by expending the least amount of resources and tasking the least amount of personnel to most rapidly produce the results needed.  TLI's Compass package programs effectively and easily provide this training for middle level managers!
Proficiency Gained
Perfect for:
Program Scope:
To master these challenging feats and consistently produce the desired results, mid-level managers must be proficient in:
Creating and getting commitment on a "Code of Participation" (COP)
Goal focus, clarifying actual needs and pursuing truly required outcomes
Project, task and operational Planning, implementation, execution, management
Short and long-term organization operational sustainability
Supporting all levels and roles for goal achievement
Building cohesion throughout the work culture
Creating reciprocity and relationships throughout the organization
Personnel motivation and inspiration
Creating stable, cooperative and supportive work environments
Accurately reporting and providing information when and where it is needed
Providing pertinent information to C-Suite leaders to ensure planning accuracy and effectiveness
Mid-Level Managers Specialized Skills System includes the critical core skill sets to train all types of middle level managers –
Department Managers
Regional Executives and Managers
Program Directors
Project Managers
General Managers
Plant Managers
Divisional Managers
Program Scope: This advanced coaching and accelerated skills immersion program is training for middle level managers and executives ready to take the next step in their careers.
You'll learn the secrets in strategically creating organized and highly productive collaborative team environments for any organization.
Our proprietary influencing leadership training and development system enables motivated future leaders to acquire the skills to become powerhouse networking, planning, and team-building professionals! 
Upon completion of this program, you'll be able to quickly advance and positively impact any organization, while you achieve your potential as an Elite performer!
These skills give them mastery with people (influence and relationship building); it also provides the full complement of performance, efficiency and organization techniques, skills and activities. Mid-level managers face specific challenges and have particular knowledge requirements. We provide the full complement of leadership and interpersonal skills so they are guaranteed to be successful for themselves and the organization. Like the human body, we are most effective when our core is strong. Our organizations are the same. Mid-level managers are our core. When we provide them with the skills and training they need we are all stronger and more successful!
CERTIFICATES OF COMPLETION
Your TLI Accreditation Advantage
1.  GSC: Leadership and Management Training Program = 60 Course Hours
2.  Communication Success Program = 12 Course Hours
3.  High Performance Project Management = 20 Course Hours
How Your Mid-level Managers will Improve Immediately!
Powerful Training for Middle Level Managers:  Designing solutions for the toughest management challenges
Our Training for Middle Level Managers—Key Benefits to Elevate Your Career & Life!
Our GSC Leadership training and development system training provides the skills to meet every challenge.  Rising middle managers begin to master day-to-day essentials such as creating team focus, commitment to excellence and team goals are easily met without conflict! As a result time is easily spent to do the things needed to do to move your division and team forward with less people problems. Middle managers are role models as top performers and create a culture of success with their teams and recognized as extremely valuable by their superiors!
What this means to YOU and your company's Culture: 
Your company leaders acknowledge and reward your team engagement, leadership and performance.
Your new confidence and knowledge opens opportunities for significant advancement and reward. 
As you continue to master and improve your organizations performance, the recognition for your efforts and individual team performance results is powerful progress and profit.