Law Enforcement and Public Service Leadership and Management Online Training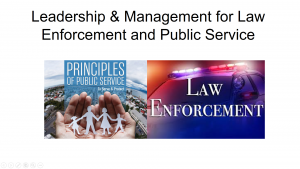 Designed to meet these official course requirements:
Who will benefit
All individuals currently performing in a Law Enforcement or Public Service leadership role as well as aspiring managers and supervisors.
What's included in the program
Online immersion course consisting of video, audio, and written immersion materials with assessments and minimum passing score requirements.
Course outcomes
This course will provide the participant with the proven skills, abilities and behaviors that enable a leader to succeed in any law enforcement workplace environment and with the personnel they have.  It is uniquely focused on ethical relationship creating and eliciting performance through skills and common interests rather than authority and discipline. Consequently, GSC leadership and this sub-course provides excellent results to men and women, new leader or seasoned manager alike.
After this training you will be able to:
Successfully and easily lead former friends
Balance your time between employees and new responsibilities
Provide accurate direction and delegation
Create inspiration and goal focus
Plan and organize task and project achievement
Communicate to inform, educate and inspire, not offend
This law enforcement and public service management and operations training is designed to meet Official law enforcement leadership and operations requirements for advancement to mid-level and above leadership positions. It enables Law Enforcement leaders to perform in a manner where they easily earn public trust, build high performing organizations, as well as, effectively create and manage operational requirements, i.e., Cost benefit analysis, hiring, interviewing, managing public funds, etc.
Objectives – key skills I will learn
Powerful penetrating self-analysis activities to identify & improve your level of performance
Identify and discover employee goals and motivations (techniques to attach their goals to company goals to enhance performance; 'buy in')
Mapping employee development path and activities (individual performance improvements, skills, outlook/attitude)
Coach and mentor employees through dynamic development (Discipline is ineffective. GSC develops strengths, turns weaknesses into strengths AND keeps employees accountable for THEIR actions
Self-mastery of emotions and behaviors- direct your emotions control negative reactions to generate the results you want
Self-discipline: ability to inspire and sustain your own energy to achieve your goals (even when you don't want to! #1 killer for performance)
Communication Style Identification: recognize and adjust to each individual's needs and belief systems
Do's and Don'ts wordsmithing for effective results
7 Steps to positive coaching process
9 Fundamental master leader skills
Holistic decision and problem solving success formulas
Create a powerful work environment and culture (atmosphere of confidence, comfort, success, and flexibility)
On-boarding for assimilation and success (expertly hiring, training, the right people for the right job)
Delegation Skills: 4 step process to streamline performance, motivation and results
Recognition Process: motivates individuals, desires and teamwork that generates behaviors and self-inspired performance in others
Leadership and communication techniques that prevent the generation of conflict
Course outline
Fundamentals of harmonious leadership
Techniques of effective leaders
How to easily and effectively embrace and prosper through change
Do's and Don'ts of leadership
Mastering individual development and coaching
Choosing the right people and supporting their needs
The Nine absolute fundamental skills of the effective leader
Decision making for positive outcomes
Choosing your path to leadership success
Designing and implementing individual development plans
Delegation as a development tool
Building team trust, loyalty and committment
Handling the "difficult person" with ease and positive results
Testimonial
Certificate