Best Leadership Certification
(GSC) Goals, Structure, Culture Influence Leadership Style and Certification
Course features:
This course is an interactive immersion course. It consists of video and or audio lessons with accompanying workbook. Throughout the course, are immersion activities that facilitate using the skills and techniques being learned and insure assimilation and mastery of the information. There are unit assessments and an end of course assessment to gauge your comprehension and assimilation of the skills and techniques. Course Hours 80 CE
---
Take the guesswork out of hiring and promoting managers and leaders. Now you can KNOW without a doubt they have the skills to lead and succeed!
Remove the pain and pressure from leading people!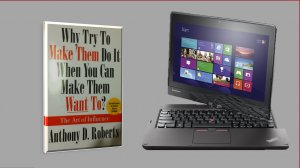 Influencing Leadership
There is a difference between pushing and leading. Of course we all know and have probably experienced that when we push people, some push back. To lead so it's easy for all and on all, we must influence people as opposed to push them. It's the difference between motivating people and inspiring them. Motivation is usually a negative process. It's a "must do" to avoid undesirable consequences. Inspiration on the other hand, is creating is giving birth to a desire to act and achieve in the other person. Consequently, leading through influence is much easier for all.
G – Focuses the entire organization on the achievement of the organization's goals as a unified priority
S – It creates a high performance operations structure by aligning all processes and systems to optimum efficiency
C – It creates a workplace culture of trust achievement and organized effort
LEADERSHIP STYLE:  GSC-GOAL, STRUCTURE, CULTURE
GSC (goals, structure, culture) is a New Leadership Methodology that uniquely creates an operational performance standard of excellence, ease and success. This is the most effective form of leadership which builds solid, productive and sustainable organizations. You may be familiar with other styles such as transactional or authoritarian,

(See comparison chart below)

but they are not effective and do not create teams that work together well at work.
HOW GSC is the Best New Leadership Style Program
What our management / certification training will do for you as a leader:
Remove conflict at work
Replace negativity with positive actions
Cure a lack of production
Convert wasted time into productive time
Create reasons for people to be motivated to work
Imbue harmony in relationships at work
Eliminate resistance and discontentment
Reduce turnover and workers comp issues
Easy to learn, maintain and follow
Allows HR to focus on helping employees versus discipline problems
When implemented correctly, will change the entire organization's workplace culture to a harmonious high performance environment
We all want leaders who can inspire and guide our employees to success, for their benefit as well as ours. In our work environments it's the results that count. After all, results are why we are there. To that end it's always better to have managers and leaders who are leaders in deed rather than just in title. Good management skills are more than just good people skills. Our organizations need leaders that have the necessary skills and can achieve the desired results with the people they are given. We need leaders and managers that can see potential challenges before they manifest and can adjust the activities to negate potential challenges. We need leaders that can adapt and overcome while safe guarding our resources be they people or materials.
What do you think a leader should be? Positive? Committed? Pleasant? Knowledgeable? Available? Open? Understanding? Honest? Sharing? Organized? inspiring?  The truth is, a truly effective manager or leader is all the above. An organization needs leaders that will guide people to think, feel and take actions that are in the best interests of the organization and its mission. Since no one is born or raised to have all the skills that a positive and efficient leader will have, if we want our leaders and managers to have these skills we must ensure they have them by providing the skills to them.
Then the question becomes, is it worth spending the money to better train your leaders and managers? What are the advantages of well-trained leaders over people who have received promotions and authority because they were a good worker? Research shows that professionally trained managers and leaders are more effective with core leadership abilities than those managers who were promoted for performance and given no professional management / leadership training on the core areas. Let's look at a skills comparison and get a visual of the differences: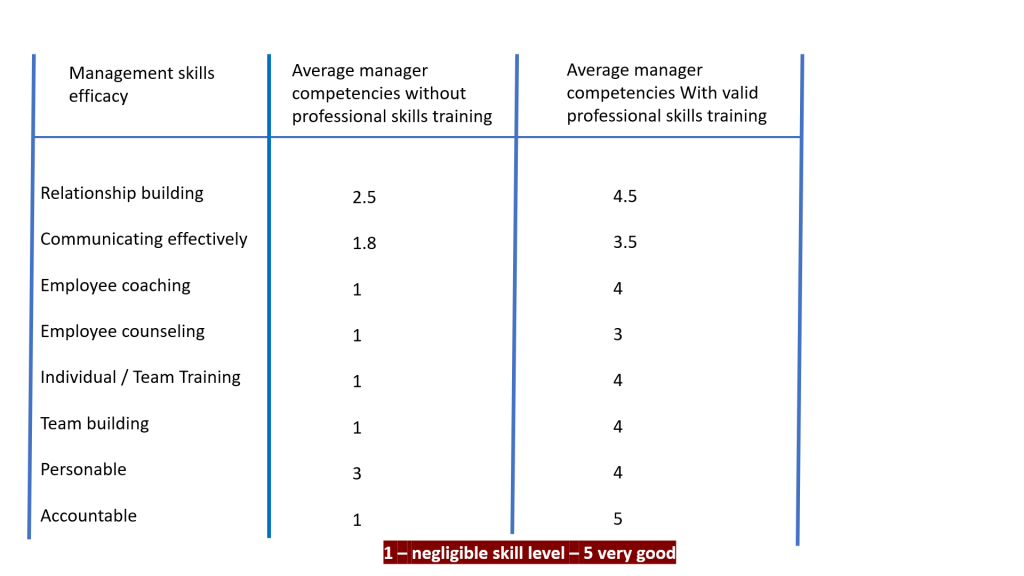 Research shows that employees that receive professional training can be up to 70% more efficient in the workplace.
Compare

:  Most Common Leadership Styles  VS GSC Leadership Style
Transactional (Authority based)
Transformational (Authority based)
Value Based
GSC (Goals, Structure, Culture)
Transactional is often called Authoritarian, Military, or Dictatorial leadership.

Tell people what to do and having the authority to do so.

The leader limits interaction with their employees to providing instruction and criticism.

This is top-down leadership with one way (down) communication.

The leader is superior to their subordinates by virtue of authority and does not foster relationships with their subordinates.

Transactional leadership is leadership by exception. Leaders interact with the employees only when necessary to criticize or instruct.

One-way communication is the hallmark of this leadership style.

Most of us were surrounded by transactional leaders growing up, from a parent saying, "Do it because I say so," to an authority figure saying, "Do as I say, not as I do."

Transactional leadership justifies negating the responsibility of leaders to add new skills and develop themselves because they have authority (in other words—I'm your boss you have to put up with me). They feel justified in any method they deem necessary to push subordinates to meet their desired objectives. They display behaviors like: yelling, slamming doors, pounding their desks, or using other forms of intimidation and manipulation to enforce their will.

Control via fear and power, versus cooperation
Transformational is also called Visionary leadership
Develop people who are close to them, IF you share their vision
Only the chosen few–who agree with them and follow
Same basic traits as Transactional
Value based – AKA: Spiritual Based (Relationship based)
Value based is sometimes referred to as Inspirational or Spiritual leadership (even though it has nothing to do with religion or spirituality).
Expect you to lead yourself
Lead out of kindness than expectations
Treat everyone nicely; NOT goal focused, but people focused
Not specific direction, causes chaos and failure
Open communication
Open communication, rapport building, cohesion with all team members
Teach and enforce expectations and standards are met consistently
Treat everyone with dignity, respect and honesty at all times
Develops subordinates consistently: succession planning
Efforts focused on goals and results
Self-development and added skills
Encourage all team members to add skills and supports needs
---
Client reviews
This is how you change leadership style issues through the best new leadership style program to illicit productive communication, projects, and results.
If you have experienced any of these issues at work, our Standard will CURE these problems.  The communication and behaviors happen from leader toward leader, leaders to employees, employees to leaders, and between employees.  Most people use these negative behaviors because it's what they have learned and been allowed to adopt as habits.  They have not had the opportunity or an effective method to implement more positive ways to interact, delegate, coach, confront or resolve problems in a positive manner to get the results they want in the first place!
NEGATIVE HABITS
Cliques – alienating others
Sarcasm and belittling others
Judging people for being and doing things differently
People refusing to change for the good of the organization
Disrespectful and Accusatory
Over talking people or ignoring others
Gossip and rumors about others
Making decisions based on PERSONAL AGENDA, as opposed to organizational goals
Only supporting people you tend to relate to
Not addressing ineffective workplace behaviors and causing negative competition or resentment (i.e.: allowing some people to 'get away' with something and not others)
Not communicating clearly so the other person can deliver the request
Justify any behavior and blame it on trying to get the result (humiliating another person)
 Our GSC Certification training program is designed to train your entire leadership team simultaneously when they participate as a group. In fact, that's exactly how to get the biggest bang for your buck! It's already significantly less expensive than the piecemeal training you get with seminars and other training organizations. GSC is the Best New Leadership Style Program and is affordable to small organizations as well as large, and of course, it carries a certification. When implemented throughout an organization simultaneously it provides:
Immediate leader and employee performance boosts
Removal of behaviors and activities that create confusion and conflict
A unified sense of purpose and commitment across the workforce
A system of communication of clarity, consensus, and understanding
Appreciation, Loyalty and trust in and for the organization's leaders
You want to help your team work well together at work  
You have the opportunity to use our revolutionary progressive approach (GSC Leadership Standard) and you can create a harmonious, cohesive, highly productive workplace environment and culture.
GSC WILL CHANGE how business is done for you…we guarantee it!
Get GSC Influence Leadership Certified Now!
$95.95
The Team-builder Leadership Institute
Average rating:
0 reviews